City of Alexandria Provides COVID-19 Updates; Rising Northern Virginia Case Counts Increases Risk Level; Infant Formula Shortage Trusted Resources
Page updated on
May 31, 2022 at 12:30 AM
City of Alexandria Provides COVID-19 Updates; Rising Northern Virginia Case Counts Increases Risk Level; Infant Formula Shortage Trusted Resources
­­For Immediate Release: May 17, 2022
Alexandria is currently at a medium COVID-19 community level according to the Centers for Disease Control and Prevention (CDC). Everyone should stay up to date with COVID-19 vaccines, get tested if they have symptoms, improve ventilation in indoor spaces, and follow guidelines for isolation or quarantine if sick or exposed. Individuals may choose to wear a mask at any time. Specific settings, such as health care and congregate facilities, may require masks.
Rising Northern Virginia Case Counts Increases Risk Level
The City of Alexandria, and Arlington, Fairfax, Loudoun, and Prince William Counties have all experienced increased COVID-19 cases in recent weeks, placing the entire region in the CDC's medium COVID-19 community level. In response, health leaders in Northern Virginia urge people to examine their personal risk to COVID-19 and prepare to protect themselves and their loved ones. Layered strategies such as masking, staying up to date on vaccines, testing if ill, physical distancing, and finding treatment if sick are particularly important for people who are at higher risk for illness, including immunocompromised persons and children too young for vaccination. The CDC now recommends that anyone traveling should consider testing themselves as close to their departure date as possible (no more than three days in advance), and testing after travel. Find details about Alexandria's community level and case rates online.
When deciding their prevention strategies, individuals should consider their personal risk situation such as whether they are a caregiver to an older adult or an ill loved one, or plan to visit someone at high risk of severe illness. Residents can prepare by identifying where they would get tested if needed and speaking to their healthcare provider about whether they are eligible for treatments. All individuals–regardless of risk level–should maintain improved ventilation throughout indoor spaces when possible and stay home and away from others when sick.
Infant Formula Shortage Trusted Resources
Strains on the supply chain due to the pandemic, in addition to a temporary U.S. Food and Drug Administration (FDA) shutdown of a formula manufacturing plant, have contributed to a shortage of infant formula in the US. The FDA is working to reopen the plant, but interim actions can help with problems caused by the shortage. Parents of young babies who need formula are urged to avoid buying it from overseas or unverified sources, as the contents are not controlled by the FDA and could be unsafe. Remember to speak to your baby's healthcare provider for any questions about your specific situation. Refer to trusted sources for safe emergency alternatives to formula and find more resources for local options and help on the Alexandria Health Department website. 
Alexandria COVID-19 Vaccination Data At-a-Glance
The dashboard below includes the percentage of residents ages 5 and older who are fully vaccinated, the number partially and fully vaccinated, and progress toward Alexandria's and the state's vaccination goals. Vaccination charts are available at alexandriava.gov/120654. Detailed data, including data on age, race and ethnicity, are available at alexandriava.gov/Coronavirus.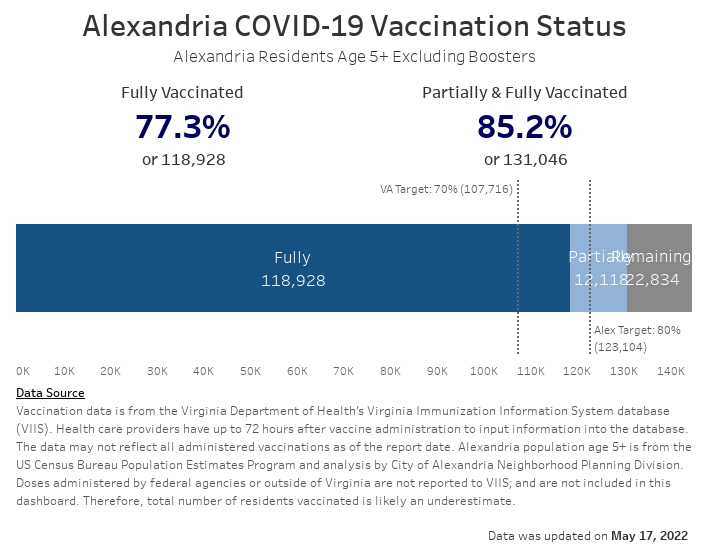 At least one dose: Total number of people who received at least one dose of a COVID-19 vaccine, including those who received one dose of the single-dose Johnson & Johnson's Janssen (J&J) COVID-19 vaccine. This metric includes all people who have received only one dose and those who received at least one dose.
Fully Vaccinated: Total number or percent of people who have completed the recommended series of a given vaccine product (i.e., two doses of the two-dose Pfizer or Moderna COVID-19 vaccine or one dose of the one-dose Johnson & Johnson's Janssen (J&J) COVID-19 vaccine).
Partially Vaccinated: Total number of people who have received the first dose of a two-dose vaccine course but have not yet received the second dose. 
Continue following safety measures even after vaccination. Get tested if you have been exposed to someone with COVID-19. If you test positive, help loved ones and neighbors by informing your close contacts using "What to Do If You Get Sick" guidance, which is available in Spanish, Amharic, and Arabic. 
                                                                                              # # #
This news release is available at alexandriava.gov/go/3629.