City of Alexandria Provides COVID-19 Updates; Beware of Counterfeit COVID-19 Tests; Apply for Rent Assistance Before Va. Rent Relief Program Ends 
Page updated on
May 6, 2022 at 4:51 PM
City of Alexandria Provides COVID-19 Updates; Beware of Counterfeit COVID-19 Tests; Apply for Rent Assistance Before Va. Rent Relief Program Ends 
­­For Immediate Release: May 5, 2022
Alexandria is currently at a medium COVID-19 community level according to the Centers for Disease Control and Prevention (CDC). Everyone should stay up to date with COVID-19 vaccines, get tested if they have symptoms, improve ventilation in indoor spaces, and follow guidelines for isolation or quarantine if sick or exposed. Individuals may choose to wear a mask at any time. Specific settings, such as health care and congregate facilities, may require masks.
Beware of Counterfeit COVID-19 Tests
The Food and Drug Administration (FDA) warns the public about counterfeit at-home COVID-19 diagnostic tests being distributed or used in the United States. Counterfeit tests are not authorized, cleared, or approved by the FDA for distribution or use but are made to look like real, FDA-authorized tests.The reliability of unauthorized tests has not been adequately established, so the risk of false results is very high. For reliable, FDA-authorized tests, order up to four at a time for free from USPS, pick up a free test at a participating Alexandria Public Library, or find other trusted testing options at alexandriava.gov/COVIDTesting.
Eligible Residents Urged to Apply for Rent Assistance Before Discontinuation of Virginia Rent Relief Program on May 15
The Virginia Rent Relief Program (RRP) is closing its application portal to new applications at 11:59 p.m., on May 15. RRP was created to keep families stably housed and landlords paid during the COVID-19 pandemic.
RRP emergency rental assistance is prioritized for households earning less than 50% of area median income or households with one or more members who have not been employed for the 90 days preceding the date of application. Any application submitted after April 21 will be prioritized based on these criteria. Others will be processed on a first-come, first-served basis.
On July 1, tenant eviction protections put in place during the pandemic will also expire. There will be:
A return to five-day notices to pay or face eviction (For the past year, landlords had to provide at least a 14-day notice to tenants.)

Removal of the requirement to inform tenants of the availability of rental assistance (For the past year, landlords had to inform and help tenants apply for RRP before initiating eviction.)

No requirement for landlords to provide notice of or offer payment plans
Landlords cannot proceed with an eviction within 45 days of submission of a completed tenant RRP application. With the last date of application acceptance being May 15, there will potentially be an influx of eviction proceedings beginning near July 1 and after.
The Virginia RRP disbursed $713 million in 141,330 rent relief payments for 104,990 unique households across the state through March 2022.
The City of Alexandria's Eviction Prevention Task Force will continue to work with partners and stakeholders across the state to create comprehensive strategies to increase the supply of affordable housing, address and prevent evictions and reduce barriers in housing.
For up-to-date information about housing assistance or to apply for the Virginia Rent Relief Program, visit alexandriava.gov/Housing. For job training and job seeking assistance, visit alexandriava.gov/WorkforceDevelopment. To learn about human service programs including assistance with food, childcare, healthcare, mental health and more, visit alexandriava.gov/DCHS.
Alexandria COVID-19 Vaccination Data At-a-Glance
The dashboard below includes the percentage of residents ages 5 and older who are fully vaccinated, the number partially and fully vaccinated, and progress toward Alexandria's and the state's vaccination goals. Vaccination charts are available at alexandriava.gov/120654. Detailed data, including data on age, race and ethnicity, are available at alexandriava.gov/Coronavirus.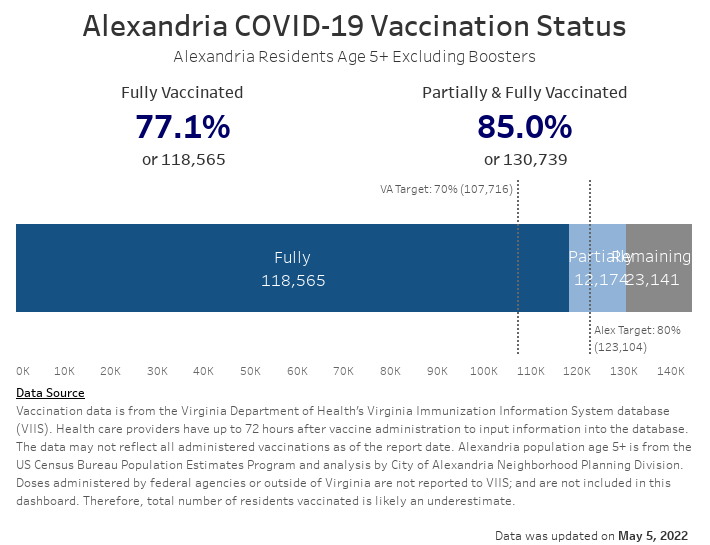 At least one dose: Total number of people who received at least one dose of a COVID-19 vaccine, including those who received one dose of the single-dose Johnson & Johnson's Janssen (J&J) COVID-19 vaccine. This metric includes all people who have received only one dose and those who received at least one dose.
Fully Vaccinated: Total number or percent of people who have completed the recommended series of a given vaccine product (i.e., two doses of the two-dose Pfizer or Moderna COVID-19 vaccine or one dose of the one-dose Johnson & Johnson's Janssen (J&J) COVID-19 vaccine).
Partially Vaccinated: Total number of people who have received the first dose of a two-dose vaccine course but have not yet received the second dose. 
Continue following safety measures even after vaccination. Get tested if you have been exposed to someone with COVID-19. If you test positive, help loved ones and neighbors by informing your close contacts using "What to Do If You Get Sick" guidance, which is available in Spanish, Amharic, and Arabic. 
# # #
This news release is available at alexandriava.gov/go/3605