City of Alexandria Provides COVID-19 Updates; Alexandria Moves to Medium COVID-19 Community Level; Two Years of COVID-19 in Alexandria
Page updated on
May 3, 2022 at 12:30 AM
City of Alexandria Provides COVID-19 Updates; Alexandria Moves to Medium COVID-19 Community Level; Two Years of COVID-19 in Alexandria
­­For Immediate Release: April 19, 2022
Alexandria is currently at a medium COVID-19 community level according to the Centers for Disease Control and Prevention (CDC). Everyone should stay up to date with COVID-19 vaccines, get tested if they have symptoms, improve ventilation in indoor spaces, and follow guidelines for isolation or quarantine if sick or exposed. Individuals may choose to wear a mask at any time. Specific settings, such as health care and congregate facilities, may require masks.
Alexandria Moves to Medium COVID-19 Community Level 
After weeks of a low COVID-19 community level, an increase in case numbers has placed Alexandria into the medium COVID-19 community level. The CDC's COVID-19 community level is a tool to help individuals decide what health and safety steps to take based on the latest data. Levels can be low, medium, or high and are determined by hospital beds in use by COVID-19 patients, new hospital admissions for those with COVID-19, and the total number of new COVID-19 cases in an area. While there has been no significant change in the two hospital measures, transmission in Alexandria has increased above the 200 cases per 100,000 people threshold. The City dashboard will update to the medium level on Friday to coincide with the timing of the CDC's weekly data update.
In areas with a medium community level, the CDC recommends that everyone stay up to date with COVID-19 vaccines, improve ventilation in indoor spaces, and follow guidelines for isolation or quarantine if sick or exposed. Individuals who are immunocompromised, at high risk for severe illness, or who spend time with high risk individuals, may want to wear a mask around others. Those individuals should also speak to their health care provider about whether they are a candidate for COVID-19 treatments if they become sick. Make a plan in advance for how you would get tested if needed. Individuals can request free tests at covidtests.gov, purchase a test at a pharmacy and submit a claim to their insurance, or pick up a free COVID-19 home test at some Alexandria Library locations. Find PCR test availability online at alexandriava.gov/COVIDtesting. 
Two Years of COVID-19 in Alexandria
More than two years have passed since Alexandria saw its first COVID-19 case on March 19, 2020. Since then, there have been 30,949 cases, 746 hospitalizations and 186 deaths due to COVID-19. Throughout this pandemic, the City and the Alexandria Health Department have collaborated in support of residents, organizations, and businesses in Alexandria and together offered COVID-19 guidance and assistance while continuing to provide essential and emergency services to the community. Below is a highlight of just a few of the many efforts and accomplishments over the past two years of COVID-19 work. 
Alexandrians continue to support their loved ones and neighbors by wearing masks when needed, getting vaccinated and boosted, and testing and staying home when sick. While COVID-19 is still in Virginia, we can apply the lessons learned from the past two years to both future pandemic response and addressing chronic disease disparities in Alexandria.
As the City transitions to an endemic phase, COVID-19 updates will be distributed as needed when there is information to share and will no longer be distributed weekly. To guide the development of future health updates, please complete a brief survey. 
To continue to receive health-related updates, subscribe to the Alexandria Health Department eNews topic, by logging in using the username and password you created when you initially subscribed for eNews. If you don't remember your login information, follow the reset prompts shown to log in. Once you are logged in, go to "My Subscriptions (Edit)," select the topic areas you want to receive news about, then select the "save" button.
Alexandria COVID-19 Vaccination Data At-a-Glance
The dashboard below includes the percentage of residents ages 5 and older who are fully vaccinated, the number partially and fully vaccinated, and progress toward Alexandria's and the state's vaccination goals. Vaccination charts are available at alexandriava.gov/120654. Detailed data, including data on age, race and ethnicity, are available at alexandriava.gov/Coronavirus.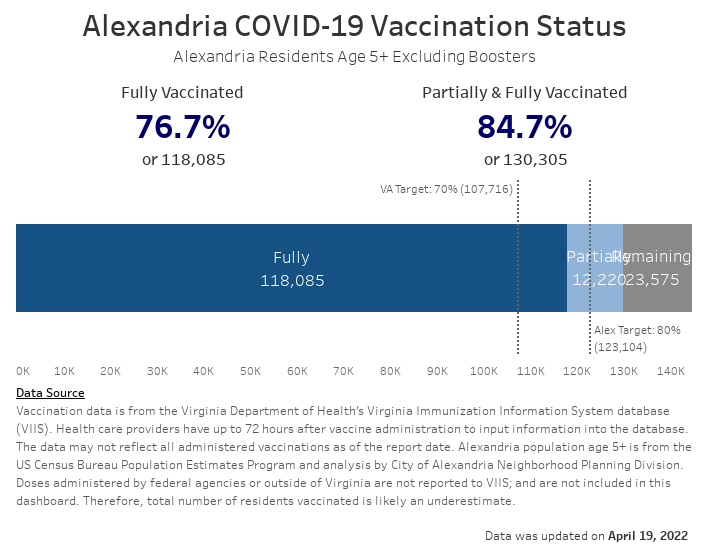 At least one dose: Total number of people who received at least one dose of a COVID-19 vaccine, including those who received one dose of the single-dose Johnson & Johnson's Janssen (J&J) COVID-19 vaccine. This metric includes all people who have received only one dose and those who received at least one dose.
Fully Vaccinated: Total number or percent of people who have completed the recommended series of a given vaccine product (i.e., two doses of the two-dose Pfizer or Moderna COVID-19 vaccine or one dose of the one-dose Johnson & Johnson's Janssen (J&J) COVID-19 vaccine).
Partially Vaccinated: Total number of people who have received the first dose of a two-dose vaccine course but have not yet received the second dose. 
Continue following safety measures even after vaccination. Get tested if you have been exposed to someone with COVID-19. If you test positive, help loved ones and neighbors by informing your close contacts using "What to Do If You Get Sick" guidance, which is available in Spanish, Amharic, and Arabic. 
                                                                                              # # #
This news release is available at alexandriava.gov/go/3568.