City of Alexandria Provides COVID-19 Updates; COVID-19 Treatment Options; Spring Travel Safety Reminder
Page updated on
April 26, 2022 at 12:00 AM
City of Alexandria Provides COVID-19 Updates; COVID-19 Treatment Options; Spring Travel Safety Reminder
­­For Immediate Release: April 12, 2022
Alexandria is currently at a low COVID-19 community level according to the Centers for Disease Control and Prevention (CDC). Everyone should stay up to date with COVID-19 vaccines and get tested if they have symptoms. Individuals may choose to wear a mask at any time. Specific settings, such as health care and congregate facilities, may require masks.
COVID-19 Treatment Options
Various COVID-19 treatment options are available in northern Virginia. If you are at high-risk of severe illness from COVID-19, know your treatment options and talk to your healthcare provider about whether you are a candidate.
The Test to Treat program is a federal initiative that launched in March at pharmacy-based clinics and other locations. The program provides diagnosis and immediate access to two types of lifesaving anti-COVID-19 pills. People with high risk conditions who either test positive for COVID-19 on-site or bring in evidence of a positive COVID-19 test, including a home test, can now receive a prescription and have it filled all in one visit. 
Anti-COVID-19 medications, including pills, injections and infusions, are also available by prescription outside of the Test to Treat program. Visit the Virginia Department of Health (VDH) therapeutics website to learn more. VDH also offers a COVID-19 Treatment Locator to search for pharmacies and other facilities with COVID-19 treatment options in Virginia. While the COVID-19 therapeutics are free, some individuals may be charged a copay depending on their insurance and treatment location. 
Spring Travel Safety Reminder
The Alexandria Health Department reminds everyone to travel safely this spring. The best way to protect yourself and your loved ones is to stay up-to-date on your vaccinations. If you will be spending time with individuals at higher risk of severe COVID-19, consider getting tested 1-3 days before you travel to see them. Monitor yourself for symptoms after you travel. Masks are currently still required on public transportation such as taxis, planes and trains. Free testing options in Alexandria can be found at alexandriava.gov/COVIDTesting.
Alexandria COVID-19 Vaccination Data At-a-Glance
The dashboard below includes the percentage of residents ages 5 and older who are fully vaccinated, the number partially and fully vaccinated, and progress toward Alexandria's and the state's vaccination goals. Vaccination charts are available at alexandriava.gov/120654. Detailed data, including data on age, race and ethnicity, are available at alexandriava.gov/Coronavirus.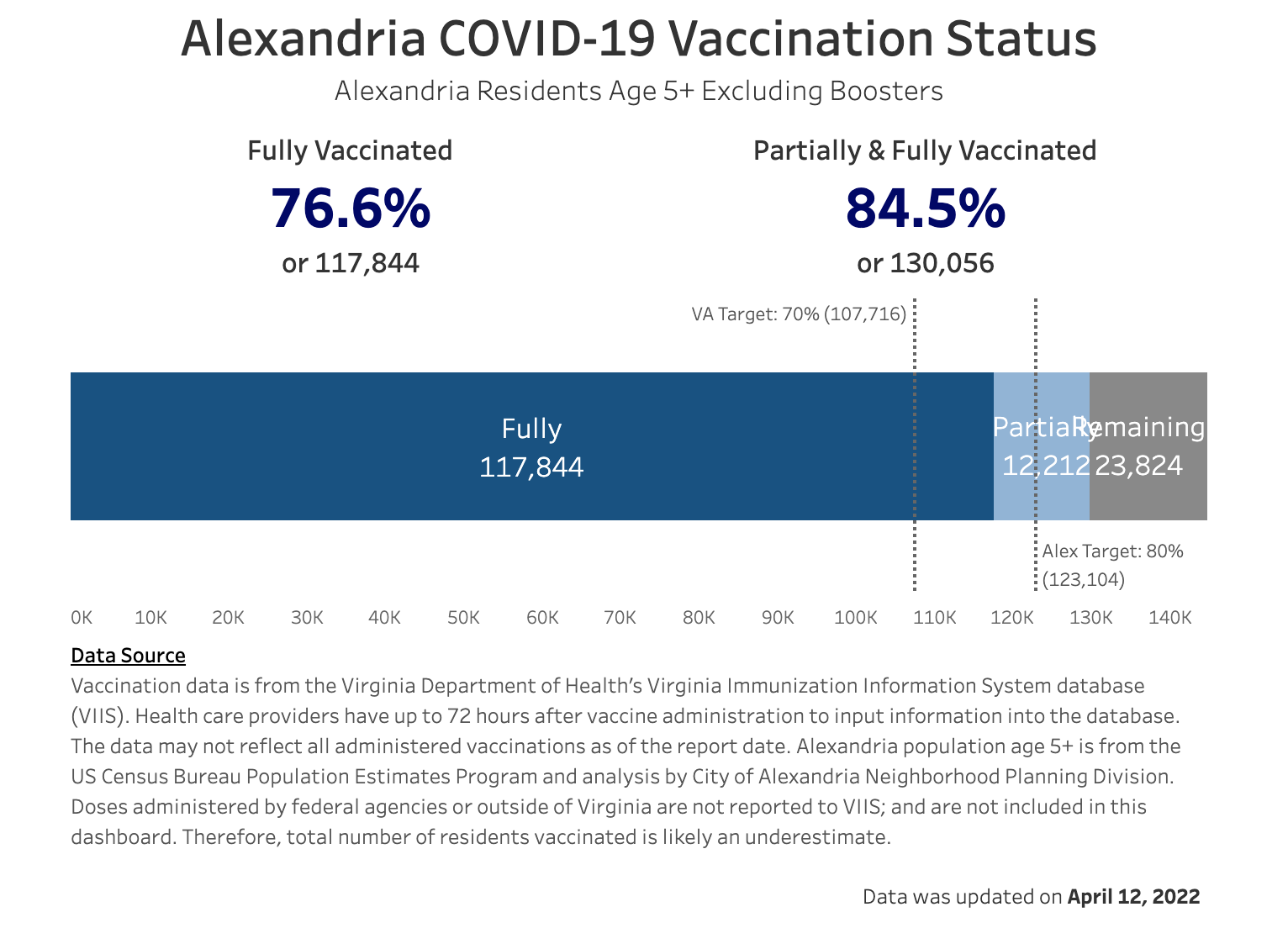 At least one dose: Total number of people who received at least one dose of a COVID-19 vaccine, including those who received one dose of the single-dose Johnson & Johnson's Janssen (J&J) COVID-19 vaccine. This metric includes all people who have received only one dose and those who received at least one dose.
Fully Vaccinated: Total number or percent of people who have completed the recommended series of a given vaccine product (i.e., two doses of the two-dose Pfizer or Moderna COVID-19 vaccine or one dose of the one-dose Johnson & Johnson's Janssen (J&J) COVID-19 vaccine).
Partially Vaccinated: Total number of people who have received the first dose of a two-dose vaccine course but have not yet received the second dose.
Continue following safety measures even after vaccination. Get tested if you have been exposed to someone with COVID-19. If you test positive, help loved ones and neighbors by informing your close contacts using "What to Do If You Get Sick" guidance, which is available in Spanish, Amharic, and Arabic. 
                                                                                                 # # #
This news release is available at alexandriava.gov/go/3549.