City of Alexandria Provides COVID-19 Updates; New Hub for Federal COVID-19 Resources; Additional Boosters Recommended for Some Groups; Quarantine and Isolation Calculator Tool 
Page updated on
April 16, 2022 at 10:00 AM
City of Alexandria Provides COVID-19 Updates; New Hub for Federal COVID-19 Resources; Additional Boosters Recommended for Some Groups; Quarantine and Isolation Calculator Tool 
­­For Immediate Release: March 30, 2022
Alexandria is currently at a low COVID-19 community level according to the Centers for Disease Control and Prevention (CDC). Everyone should stay up to date with COVID-19 vaccines and get tested if they have symptoms. Individuals may choose to wear a mask at any time. Specific settings, such as health care and congregate facilities, may require masks.
New Hub for Federal COVID-19 Resources
A new COVID.gov website will serve as a singular hub for finding COVID-19 care, testing, vaccines and more. This collection of resources represents a shift towards a standardized long-term strategy for nationally addressing COVID-19 as an endemic.
The community search feature quickly displays community levels based on locale, alongside recommended actions, like masking. The most notable tool is a location finder for the "Test-to-Treat" program, a recently created option that enables anyone with COVID-19 symptoms to go to a participating provider, such as a pharmacy, to get tested. If patients test positive for COVID-19, they can receive antiviral medications on the spot if prescribed by the provider. Find Test-to-Treat locations near you at COVID.gov. Visit alexandriava.gov/Coronavirus to find local COVID-19 testing or vaccines today.
Additional Boosters Recommended for Some Groups
The CDC updated its recommendations to allow certain immunocompromised individuals (a weakened immune system) and people over the age of 50 to receive another mRNA booster to increase their protection against severe disease from COVID-19. This additional booster should be received at least 4 months after an initial booster dose or third dose in a primary series. The U.S. Food and Drug Administration (FDA) expanded the emergency use authorizations for the Pfizer BioNTech and Moderna COVID-19 vaccines to include this second booster. 
Based on newly published data, adults who received both a primary and booster dose of Johnson & Johnson's Janssen COVID-19 vaccine at least 4 months ago may now receive a second booster dose of an mRNA COVID-19 vaccine. Find vaccine clinics offering booster doses by visiting alexandriava.gov/Vaccines. Vaccines are available at all local vaccine providers free of charge regardless of insurance status.
Quarantine and Isolation Calculator Tool
The CDC released a robust new COVID-19 Quarantine and Isolation (Q&I) Calculator, which was developed in response to requests from partners and the public. The Q&I Calculator provides tailored information about precautions people with COVID-19 and their close contacts should take to protect their loved ones and neighbors. Please note that the Q&I Calculator is not for people with COVID-19 who are severely ill or those who are immunocompromised and are at high risk of needing hospitalization.
Alexandria COVID-19 Vaccination Data At-a-Glance
The dashboard below includes the percentage of residents ages 5 and older who are fully vaccinated, the number partially and fully vaccinated, and progress toward Alexandria's and the state's vaccination goals. Vaccination charts are available at alexandriava.gov/120654. Detailed data, including data on age, race and ethnicity, are available at alexandriava.gov/Coronavirus.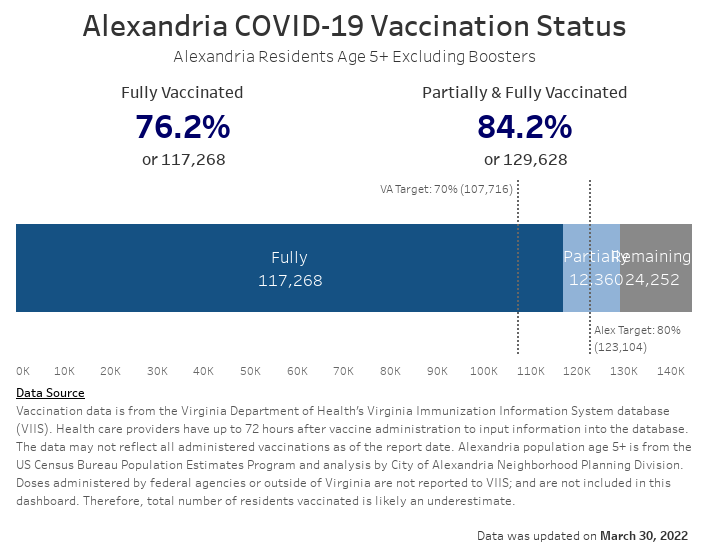 At least one dose: Total number of people who received at least one dose of a COVID-19 vaccine, including those who received one dose of the single-dose Johnson & Johnson's Janssen (J&J) COVID-19 vaccine. This metric includes all people who have received only one dose and those who received at least one dose
Fully Vaccinated: Total number or percent of people who have completed the recommended series of a given vaccine product (i.e., two doses of the two-dose Pfizer or Moderna COVID-19 vaccine or one dose of the one-dose Johnson & Johnson's Janssen (J&J) COVID-19 vaccine)
Partially Vaccinated: Total number of people who have received the first dose of a two-dose vaccine course but have not yet received the second dose.
Continue following safety measures even after vaccination. Get tested if you have been exposed to someone with COVID-19. If you test positive, help loved ones and neighbors by informing your close contacts using "What to Do If You Get Sick" guidance, which is available in Spanish, Amharic, and Arabic. 
 # # #
This news release is available at alexandriava.gov/go/3497.