City of Alexandria Provides COVID-19 Updates; CDC Updates COVID-19 Monitoring System; Masks Now Optional in City Facilities
Page updated on
April 5, 2022 at 9:57 AM
City of Alexandria Provides COVID-19 Updates; CDC Updates COVID-19 Monitoring System; Masks Now Optional in City Facilities
For Immediate Release: March 1, 2022
 
CDC Updates COVID-19 Monitoring System
The Centers for Disease Control and Prevention (CDC) released a new system for monitoring the level of COVID-19 impact on communities, signaling a new phase of the pandemic. Rather than attempting to eliminate all spread of COVID-19, the new approach focuses on limiting severe illness and preventing strain on local health care systems. Levels can be low, medium, or high and are determined by new COVID-19 admissions per 100,000 population in the past 7 days, the percent of staffed inpatient beds occupied by COVID-19 patients, and total new COVID-19 cases per 100,000 population in the past 7 days. Alexandria is currently at a low COVID-19 community level.
The CDC recommends increasing prevention measures, such as wearing a mask, when the local level of severe disease could overwhelm the health care system. When hospitals are overwhelmed, they aren't able to provide the best care for COVID-19 patients, or for people experiencing other health crises, like heart attacks, strokes or car collision injuries. 
Going forward, recommendations will be based on the level of COVID-19 in a community and the strain on health care systems:
"

Low" Community Level

represents fewer COVID-19 cases and less people seeking hospital care. Masks are not required in most settings.

"

Medium" Community Level

indicates that hospitals are seeing more sick patients and there is likely more COVID-19 disease in the community. The focus is on protecting the people who are most likely to get severely ill and pass away from COVID-19. Masks are optional. Persons at high-risk, or who interact with someone who is either immunocompromised or at high risk for severe disease, may choose to wear well-fitting masks indoors in public.

"High" Community Level

suggests there is potential for the health care system to become strained.

The CDC recommends that everyone wears a mask in public indoors, including schools and workplaces.

No matter the level, people may choose to mask at any time.
Learn more about Community COVID-19 levels and the prevention measures recommended at each level.
Masks Now Optional in City Facilities 
Based on the CDC's COVID-19 Community Levels, Alexandria and most of Northern Virginia is currently at a low COVID-19 community level. Effective immediately, wearing a mask is not required in most settings, but individuals may choose to do so at any time. Specific settings, such as health care and congregate facilities, may still require masks. Everyone should stay up to date with COVID-19 vaccines and get tested if they have symptoms. Existing Isolation and quarantine guidance has not changed and anyone who is sick or exposed to COVID-19 must wear a mask for 10 days.    
As a result of this new guidance from the CDC and Alexandria Health Department (AHD), use of masks by visitors to City of Alexandria government facilities is now optional. Effective immediately, visitors are encouraged to continue to wear a mask indoors based on their personal preference, as informed by their personal level of risk. In health care and congregate settings, the City will continue to follow CDC guidance for community transmission rates, which requires that staff and visitors wear an appropriate mask or respirator while Alexandria has substantial or high community transmission.
The City will continue to follow guidance from the CDC, the Virginia Department of Health (VDH) and AHD, and will adjust policy for City government facilities as necessary to prevent serious illness from  COVID-19. Any future change to the City's policy for wearing masks inside City facilities will be available at alexandriava.gov/Coronavirus.
Alexandria COVID-19 Data At-a-Glance
The Alexandria COVID-19 Vaccination Status dashboard below includes the percentage of residents ages 5 and older who are fully vaccinated, the number partially and fully vaccinated, and progress toward Alexandria's and the state's vaccination goals. Vaccination charts are available at alexandriava.gov/120654. Detailed data, including data on age, race and ethnicity, are available at alexandriava.gov/Coronavirus.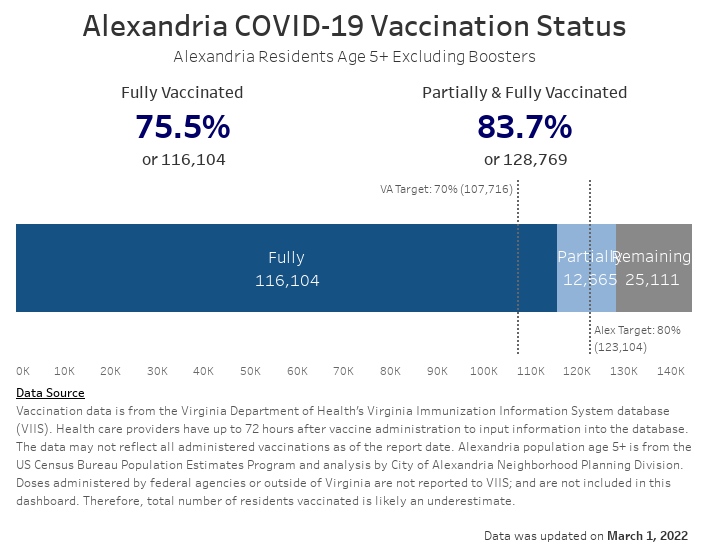 At least one dose: Total number of people who received at least one dose of a COVID-19 vaccine, including those who received one dose of the single-dose Johnson & Johnson's Janssen (J&J) COVID-19 vaccine. This metric includes all people who have received only one dose and those who received at least one dose.
Fully Vaccinated: Total number or percent of people who have completed the recommended series of a given vaccine product (i.e., two doses of the two-dose Pfizer or Moderna COVID-19 vaccine or one dose of the one-dose Johnson & Johnson's Janssen (J&J) COVID-19 vaccine).
Partially Vaccinated: Total number of people who have received the first dose of a two-dose vaccine course but have not yet received the second dose. 
Continue following safety measures even after vaccination. Get tested if you have been exposed to someone with COVID-19. If you test positive, help loved ones and neighbors by informing your close contacts using "What to Do If You Get Sick" guidance, which is available in Spanish, Amharic, and Arabic. 
# # #
This news release is available at alexandriava.gov/go/3377.